Teen Volunteers for Summer Reading Program Needed!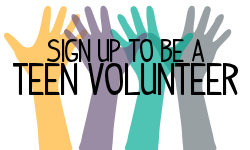 The Ridley Township library needs teens (ages 13-17) to help us with our Summer Quest Reading Program!
What will I be doing?
Attending a 1/2-hour training session and signing up for 2-hour volunteer shifts.
Helping us in the Children's Library with various programs or performing other jobs (June 17th-August 9th) or helping out with our Science in the Summer program (July 8th-11th).
Interacting with kids, teens, and their parents in a positive, friendly way.
Training Sessions are scheduled for: Wednesday, May 29th — 4:00pm-4:30pm Thursday, June 6th — 4:00pm-4:30pm Sunday, June 9th— 2:30pm-3:00pm Thursday, June 13th — 4:00pm-4:30pm
 A volunteer application can be picked up at the circulation desk and must be completed and brought back before May 20th to be considered. You may pick up an application beginning on Wednesday, April 10th. The parental consent portion of the form must be completed. Volunteer certificates will be awarded at the end of the summer!
All teen volunteers must be 13 years of age by June 1st, 2019. It is mandatory for all teen volunteers to attend a 1/2 hour training session (except for Science in the Summer helpers), and be prepared to sign up for their desired shifts at that time.
If you'd like an application emailed to you just send an email to Kim Christensen (teens@ridleylibrary.org).